University Centers Shops & Services 
Due to Covid-19, some of the shops and services below may be closed or have limited hours.
University Centers offers a variety of convenient retail services for the UC San Diego community.   
Please be patient as some vendors are short staffed and hours are subject to change. We appreciate your understanding during this time.
Shops & Services @ Price Center
Last updated  3/27/23
Website
Easy pick-up and returns at Price Center! On-site Customer Service and longer package holds available.
PARKING:
Park at Gilman Parking Structure

Park in V (visitor) spaces, cost is $3.00 an hour.
There are a few limited FREE 10 minute parking spots on Level 2
Limited FREE 30 minute parking spots at the end of Russell Lane 

FREE parking on WEEKENDS (unless marked otherwise)
Handicap parking available on Matthews Lane
WALKING DIRECTIONS FROM PARKING: 
From Gilman Parking Structure, walk up Russell Lane to the end of the road. Turn left and follow road up to UCSD Bookstore. Signs will direct you to Amazon. 
If the UCSD Bookstore is closed keep walking to end of the building and turn right on Library Walk; turn right again, and follow the steps down to Price Center Plaza. Amazon will be on your right.
Website | (858)246-0972
Innovative graphic design services and solutions for UC San Diego students, faculty and staff.
Website | (858)534-3770
Mon-Fri: 9am - 5pm  •Sat: 11am - 4pm • Sun: Closed
Find spirit gear, gifts, dorm accessories, and of course your textbooks, medical books and office supplies.
Website | (858)534-TIXS (8497)
Pick up tickets for campus and Ticketmaster events, plus get student discounts on area attractions and movies.

Website | (858)534-7666
A general information desk, providing all resources and services student organizations need to reserve rooms, plan events, and more. Drop and claim lost and found items.
Website | (858)404-0834   
Mon-Fri: 10am - 6pm  • Sat:  10am - 4pm • Sun: Closed
Quality salon services conveniently located in the heart campus at Price Center—haircuts, color, waxing, facials, manicures, and pedicures. Call for an appointment.
Website | (858)534-1164  
Mon - Fri: 9am - 3pm • Sat & Sun: Closed
The Trove is a campus hub for Student Mail Services located at University Centers, Price Center on Library Walk, directly across from Geisel Library. The Trove houses one of several Student Mail parcel centers on campus. Students residing at Marshall, Warren, Muir, and Village at Pepper Canyon pick up their incoming packages at this location. The student parcel center at The Trove is the first to offer contactless package pickup using Smart locker technology.         
The Trove is a full-service postal annex, offering shipping and mailing services to the public, students, and the campus community with highly competitive, university-negotiated shipping rates. Visit the Mailing Center for services and hours.
Website  | (858) 410-0390
Mon - Fri: 7am - 10pm • Sat-Sun: 8am - 10pm
Located on Level 2 of Price Center West, this Target campus store is unique and provides a curated assortment of products and services tailored to the specific needs and wants of students, staff and faculty on the UC San Diego campus. Also includes a CVS Pharmacy.
Website | 424-320-4691
Mon-Fri: 9am -  5pm  • Sat-Sun: Closed
Shops & Services @ Student Center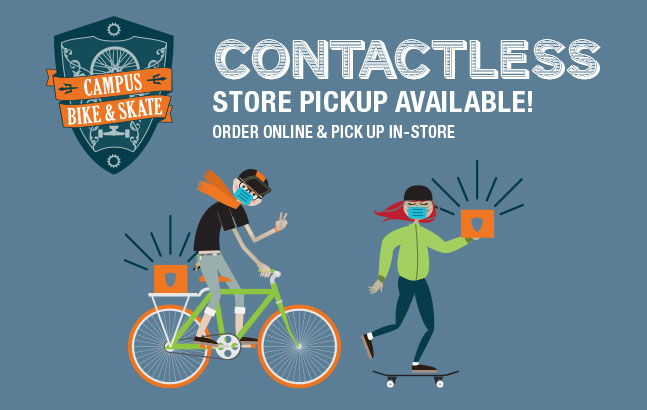 Website | (858)534-4279
Mon - Fri: 9am - 5pm • Sat & Sun: Closed
A well-stocked shop with everything you need to keep your rides safe and smooth.
Website | (858)452-9625
Mon - Fri: 11am - 5pm  • Sat & Sun: Closed
A cooperatively managed bookshop run by volunteers, serving as a community resource for students, faculty, and activists.
Website | (858)450-3080
Mon, Wed & Fri: 11am - 4pm • Tues & Thurs: 1pm - 4pm • Sat-Sun: Closed
A non-profit, student-run cooperative committed to offering the campus community an assortment of school supplies, snacks, and convenience items at low price.